Jun 27, 2020
History of Prestigious Schools in the United States
As the 2020 school year comes to a close, rising seniors are tasked with the near-impossible chore of deciding which schools to apply to. This can be a long and arduous process, especially when considering the ever-falling acceptance rates of top-tier schools.
Why are these schools so highly regarded? What makes them sought after by high school students, and many times, their parents? Some may chalk it up to prestige alone, but these schools have interesting histories that led them to their statuses today.
Harvard University
Harvard University is possibly the most famous college in the world. It was the first college I was ever exposed to, thanks to Legally Blonde. 
The oldest institution of higher learning in the continental United States, Harvard was founded in 1636. Originally named 'The New College' (not to be confused with the contemporary 'The New School' in New York), like many colonial colleges, its purpose was to educate clergymen.
According to Harvard's website, the school gained its current name from John Harvard, "who upon his death in 1638 left his library and half his estate to the institution", which consisted of  £779 pounds sterling and some 400 books (Columbia Encyclopedia).
Radcliffe College was founded in 1879 as an all women's sister school to Harvard when Arthur Gilman wanted a substantial higher education for his daughter but found that many staff at other women's colleges were largely untrained.
Radcliffe College as an 'annexation' of Harvard was approved by the residing Harvard president (Howells). Radcliffe thus came to fruition, with its first president being Elizabeth Cabot Agassiz.
In 1963, Harvard degrees were awarded to Radcliffe students for the first time. In 1967, Lamont Library allowed women access.
In 1975, the two Colleges merged their admissions. In 1977, "a critical date," Harvard's ratio of four men to one woman ended with "sex-blind admissions." I
In 1999, Radcliffe officially merged with Harvard, and the Radcliffe Institute for Advanced Study was born (Walsh)." This is the history of Harvard as we know it today.
Colgate University 
Colgate University has a much quieter reputation than Harvard on the global level but is highly regarded in the world of liberal arts universities.
If you ever wear their merchandise, be prepared to get asked  "Like the toothpaste?" many, many times. I've even been asked if I want to be a dentist!
(Note: Colgate, somewhat disappointingly, does not have a dentistry program, although it was once the subject of a very popular April Fool's joke).
Colgate's lore is fascinating in that there is a bit of a spin to it. Like many early American schools, Colgate was founded to advance the education of clergymen. Colgate was founded in 1819- and is located in upstate New York- and celebrates 'Colgate Day' on Friday the thirteenth.
Hold on, what? Since when is Friday the thirteenth a lucky day? Some say the unluckiness of the number 13 dates back to Judas, the thirteenth disciple, who betrayed Jesus Christ.
So why would Colgate, a University that was started to advance the education of passionate church-goers, celebrate the number thirteen?
According to legend, Colgate was founded by 13 men with 13 dollars, 13 prayers, and 13 articles. It doesn't just end there.
Colgate's address is 13 Oak Drive, and its zip code is 13346. Not only does the zip code begin with 13, but the final 3 numbers- 3, 4, and 6- add up to…
You guessed it! 13 (Jenkins).
A fun story to tell on-campus tours, it adds to the charming personality of the little school.
Stanford University 
Taking a quick plane ride to the west coast, we can find Stanford University. Stanford isn't considered an Ivy League school, but it's one of the most selective colleges in America.
According to the Stanford admissions website, for the class of 2023, they received 47,498 applications and admitted 2,026 students, leaving them with an astonishing acceptance rate of 4.3%.
So why is Stanford so popular, and why isn't it considered an Ivy League college?
First, we have to define the Ivy League.
In today's society, many people equate the 'Ivy League' with a few ideas.
These ideas include prestigious, competitive, academically inclined, selective, and for many: a goal to reach. It's true that Ivy League schools are all of these things, but the truth is, this isn't what Ivy League was intended to refer to at all.
The term 'Ivy League' was coined in 1954 to refer to an NCAA Division I intercollegiate group (Ivy League History and Timeline).
So, while the name may be synonymous with prestige today, Stanford, unfortunately, is not included.
That in no way stops Stanford from being prestigious, though. It was founded by Leland and Jane Stanford and was co-ed, which was considered untraditional at the time, in honor of Leland Stanford Jr. who died of typhoid fever at age 15.
Mr. and Mrs. Stanford decided they wanted to use their money to benefit other children in his name. Stanford's first president said in 1891, 
"It is for us as teachers and students in the university's first year to lay the foundations of a school which may last as long as human civilization… It is hallowed by no traditions; it is hampered by none. Its finger posts all point forward." 
And Stanford became something of a tradition itself, with legacy children listening to stories wide-eyed s about college days as bedtime stories. 
The Ivy League
There are eight total Ivy League schools, Harvard is one of them. They each have their own unique history that they cherish and show much pride for.
Yale was started in New Haven by Puritans escaping religious persecution in England. 
A group of ten ministers gave donations of books to start school. In 1718, a merchant named Elihu Yale, who was also the grandson of one of the founders of the New Haven colony, donated "400 books, a portrait of King George I, and cloth goods that sold for 562 pounds (Schiff, 2020)." Henceforth, the school was named after Yale.
Princeton University was chartered in 1746. It was named the College of New Jersey until 1896. It was considered the educational and religious capital of Scottish-Irish America. 
It was chartered in Elizabeth, but the name changed to Princeton once the school moved to Princeton, New Jersey.
Brown University is known for being the 'artsiest' of the Ivy Leagues and is located in Rhode Island. Much like Princeton, it was named after its state at first, called "College in the English Colony of Rhode Island and Providence Plantations (Brown, 2009)."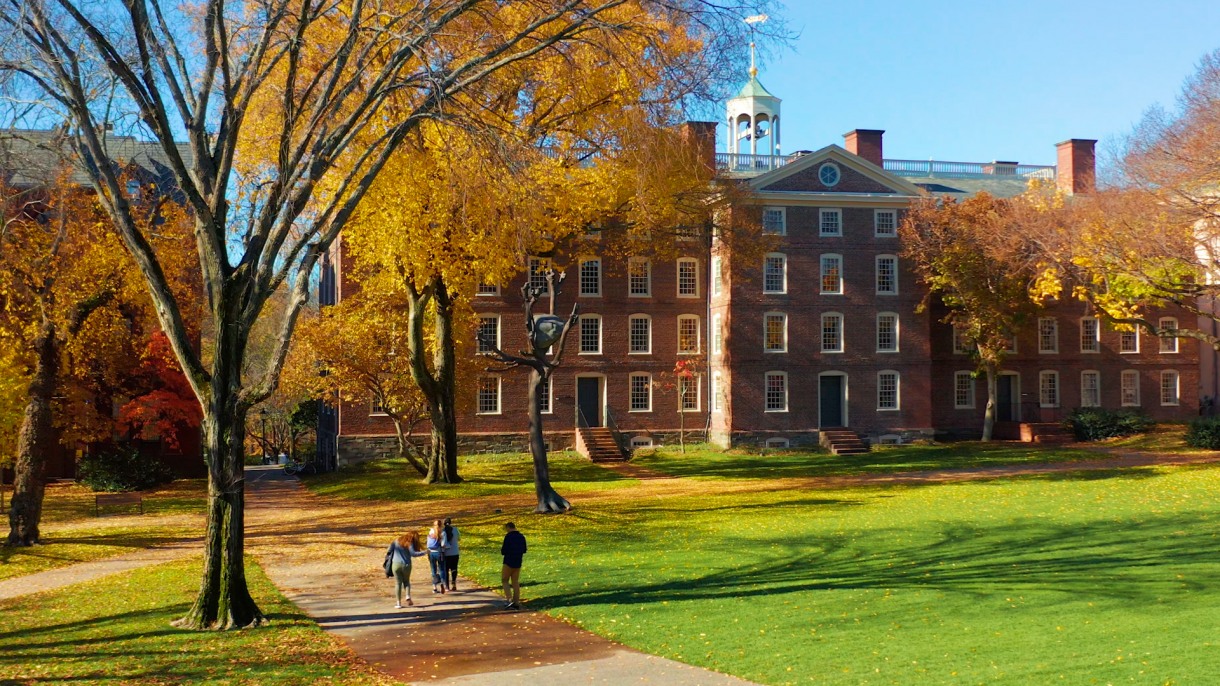 Later, it was named after Nicholas Brown Jr., an abolitionist, and the school's treasurer.
Cornell University was founded by and named after Ezra Cornell, who was quoted as saying "I would found an institution where any person can find instruction in any study (University Mission)." 
It is located in the beautiful Ithaca, New York.
Dartmouth College was founded by Eleazer Wheelock in Connecticut as "Moor's Indian Charity School" to train Native Americans in becoming Christian Missionaries (Childs, 1957). 
Later the school was relocated to Hanover, New Hampshire, where it resides today, to be closer to Native Tribes.
Columbia University was founded in 1754 by the royal charter of King George the Second, and was aptly named "King's College." The first class was made up of only eight people. 
Today, according to Columbia's Undergraduate admissions site, there are 4,500 students in Columbia College and 1,500 in The Fu Foundation School of Engineering and Applied Science. And those are just undergraduate numbers!
The University of Pennsylvania remains named after its location to this day and is most famous for the prestigious Wharton School of Business. 
UPenn was begun by a famed evangelist, George Whitefield, and hosted Benjamin Franklin on its board of Trustees. Franklin pushed for further education, past what was traditional, to standards that the University still boasts today.
As college application season rolls around, it's easy to become caught up in prestige and rankings. But it's important to remember that the most vital part of a college search is how the college inspires and brings out the best in you.
Every college has a story, and it is worth finding out where it all began. Hearing where it all began is usually a hidden message for what will happen in the future.
Good luck, future class of 25!
If you found this article, please share it: